Thermal
Ceramic Coatings 101 The Entire Thermodynamics – Not Just Conduction, but also Radiation and Convection
First of all, it is sometimes suggested that all Ceramic Coatings are the same. This is not true. That's like saying all "air trapper" insulations are the same which is also not true. Fiberglass is certainly not the same as Closed Cell Foam. First and foremost it should be understood that all ceramic coatings are not the same and are not created equal. Also there are substantial differences between a reflective paint which only addresses Visual Light (short wave) and a thermal barrier coating which addresses UV, Visual Light (short wave) and IR (long wave) with the primary difference being unlike a reflective paint, a Ceramic Coating still continues to work even after it gets dirty.
Even within our own family of Ceramic Coatings we have different coatings that contain different ceramics in different amounts and are engineered to perform different functions.
For example: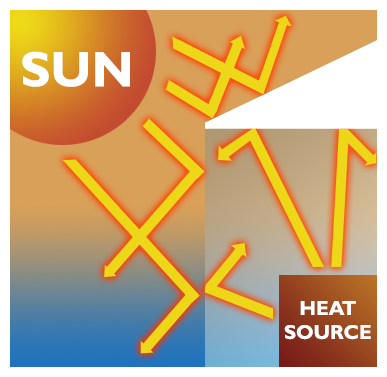 SUPERTHERM® Multi ~ Ceramic Thermal Barrier Coating contains four different ceramics and is Engineered to Repel Heat and as per its Certifications references ASTM E1269 \ ASTM E1461-92 and reduces thermal conductivity by deflecting and repelling thermal absorbtance by better than 90% on an interior application and by better than 95% on an exterior application. This reduces BTU conduction from over 350 Btu's down to 4 Btu's and thus provides a thermal benefit equivalent to R19 at the very least. As noted by a PhD in Fluid Mechanics "SuperTherm® is repelling better than 95% of the heat to begin with therefore debating the remaining 5% with R-value is trivial."
HPC® COATING Multi ~ Ceramic Insulation Coating contains seven different ceramics and is Engineered to Block Heat and as per its Certifications references ISO8302 \ ASTM C-177 and has thermal conductivity of 0.063 W/mK and is engineered to stop thermal transfer via conduction. i.e. A one inch thickness reduces 482°C \ 900°F down to 61°C \ 142°F which exceeds the Canadian standard of 70°C \ 158°F and is virtually compliant with the OSHA standard of 140°F \ 60°C. The dead air space contained within the ceramic Cenospheres also provides some thermal storage.
Both are Ceramic Coatings but are engineered differently to address different modes of thermal transfer.
They are sometimes used together in a HYBRID INSULATION SYSTEM as in the case of the COLD CLIMATE CONTAINER INSULATION – keeping a shipping container home warm at –40 C in Quebec, Canada. See below for further information on Hybrid Insulation Systems.
Thermal Products